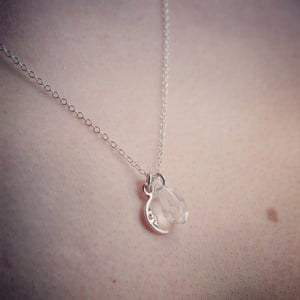 $

35.00
This piece is small and sweet, and precious as the moon in the sky. The name is inspired from the 18th century prayer: "Now I lay me down to sleep, I pray The Lord my soul to keep. If I should die before I wake, I pray The Lord my soul to take."
The moon is crescent-shaped with a smiling face, like in the nursery rhymes we read to our babies. This piece is the most subtle of the line, perfect for a tiny life lost early, when perhaps very few people even know.
A solid .925 sterling silver moon charm measuring 11.5mm with a Swarovski crystal teardrop. 16" Chain, fasteners and rings are all .925 sterling silver.